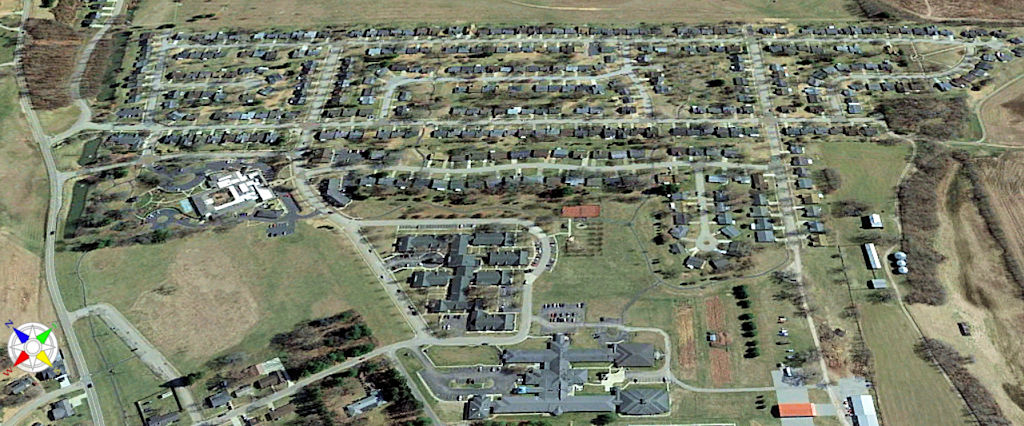 This is a satellite photo of Bristol Village looking northeast. The main entrance is near the left center of the picture. The campus coveres about 135 acres. Bristol Village is bordered on the northeast by a Waverly City Park; on the southeast by farm fields and the Scioto river valley; on the west and south by the village of Waverly.
Frequently Asked Questions
Q: What is Bristol Village?
A: Bristol Village is a retirement center for active seniors located in Waverly, Ohio. It was founded in 1961 by Rev. John R. Glenn who, with a group of far-sighted individuals, purchased an abandoned neighborhood of around 400 houses from the Federal Housing Administration. Initially focusing on providing low-cost homes for retired teachers and preachers, it has grown to include a wide variety of people from all walks of life.

The Waverly campus currently includes: Bristol Village Homes, a neighborhood of over 300 stand-alone houses; Bristol Court, a one story 80 unit apartment complex; and The Bristol Village Health Care complex, a fully certified convalescent and nursing care center.

A 65,000 square foot Activity Center provides facilities for catering to the interests and needs of residents. The residents come from all parts of the USA, and many have significant international living experiences. The variety of backgrounds and interests of Bristol Village residents is remarkable
---
Q: Who Operates Bristol Village?
A: The original Bristol Village organization has evolved into National Church Residences, a non-profit organization that now operates hundreds of nursing homes and low-cost housing facilities around the countrty . Bristol Village, however, with its large collection of stand-alone houses and a very active community of involved residents, is unique among the National Church Residences properties.
---
Q: Who lives in Bristol Village?
Although it began as a place for retired preachers and teachers, Bristol Village residents bring an amazing breadth and depth of life experiences to this comfortable caring community. Bristol Village is an over 55 community. You can meet some residents by clicking here and then click on the "... meet some residents" link.
---
Q: Where is Bristol Village?
A: Bristol Village is located in Waverly, in the Scioto River Valley of south central Ohio. It is about 60 miles south of Columbus, Ohio and 100 miles east of Cincinnati, Ohio.
---
Q: What is the Bristol Village campus like?
The Bristol Village campus covers about 135 acres in scenic southern Ohio. Click here to see a map of the campus.